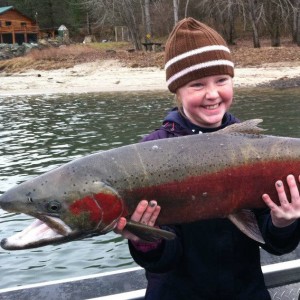 Riverquest Excursions offers you a chance to fish for the plentiful A-run Steelhead of the Snake River.The A-run Steelhead average 6 to 8 pound. We offer different techniques to accommodate your steelhead fishing abilities. We can troll bait and plugs or drift bait; whichever suits you best. Top quality rods and reels are used and we provide all bait and tackle. Steelhead trips run September through February and are $225.00 per person, 4 person minimum. We specialize in multi-day trips and also offer 1 day charters. Lodging will be provided by Garden Creek Ranch.
Pricing:
From Lewiston, Idaho
Per day $1,250.00
Large Charter boat $1,500.00
With overnight accommodations at our Garden Creek Ranch for $145.00 per person – all meals included with overnight
Price is per boat. 5 persons per boat. Additional charge for more people. Taxes and fees not included. You will need an Idaho fishing license. Steelhead season runs September through February. We will provide a continental breakfast, coffee and orange juice, a personal box lunch with bottled water and soft drinks.
Photos:
The Fine Print:
A 25% deposit is required at the time of booking. Deposit is refundable if cancellation occurs two weeks prior to date of trip. All balances are due one day prior to the tour. We do not run all these tours every day. Please make your reservations at least one week in advance. All tours run on demand with minimum passenger fare requirements. Due to fuel cost a fuel surcharge may be applied at the time of reservation.
Reservations
Please fill-out the form below and we will contact you to confirm. Thank you!